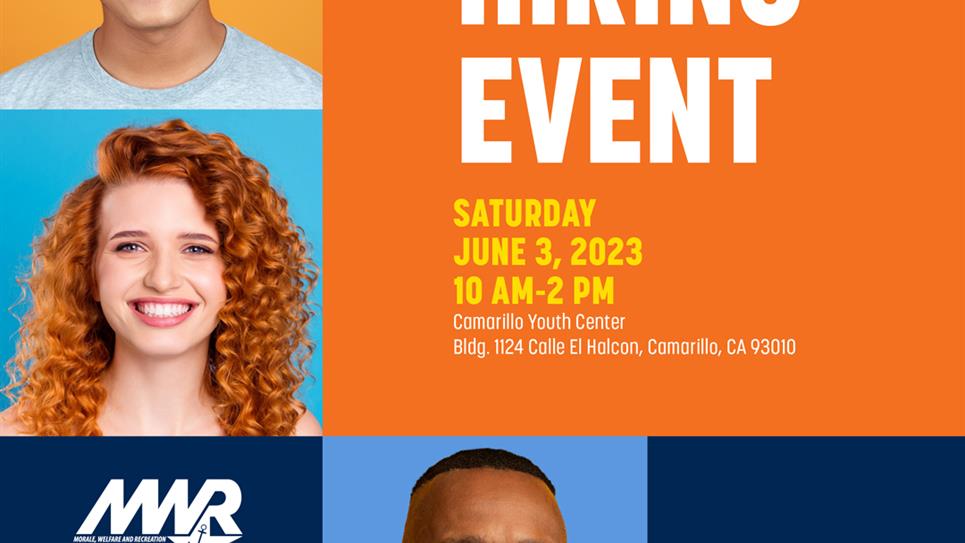 The Naval Base Ventura County N9 Department is hosting a hiring fair on Saturday, June 3 at the Camarillo Youth Center located at Building 1124 Calle El Halcon, Camarillo, CA 93010. Potential employees are encouraged to bring resumes and dress to impress as we will be hiring on the spot. Details on the hiring fairs format and what to expect when attending the fair is coming soon.
Parking.
Due to the limited number of parking spaces adjcent to the event site parking is available at the Las Posas Elementary School located at 75 E. Calle La Guerra, Camarillo, CA 93010. There is a short walk from the school to the Youth Center.
We are hiring in the areas of Fitness, Recreation, Food & Beverage, Hospitality, Child & Youth Programs, and More.
Sign-On incentive: $500 | 90 days in retention: $500 + 8hr leave | 6-months retention: $500 + 8hr leave | 1-year retention: $750+8hr leave. Add it all up and you will get $2,250 and 24hr of paid leave your first year of emplyment.
We are offering competitive salaries, hiring bonuses, & length of stay bonuses for selected employees. Employment with NBVC N9 includes a host of additional benefits like: Free access to gyms, pools, aerobic classes, & movies. Employees have access to additional recreation activities like golf, RV parks, bowling center, camping sites & more at reduced rates. Employment with N9 includes access to shop at the Navy Exchange where you can save an average of 20% on home goods, clothing, and more compared to commercial stores out in town. Not to mention the opportunity for on base child care (space permitting, other restrictions may apply).

Naval Base Ventura County N9 Department is comprised of several divisions which include:

MWR which is an acronym for Morale, Welfare, & Recreation. Much more than your typical recreation department, MWR operates comprehensive fitness centers and classes, sports leagues, RV parks, bars & restaurants, bowling centers, golf courses, movie theaters, special events, & more.
CYP which is an acronym for Child and Youth Programs is a comprehensive child care, teen activities, & youth sports. When military members and Department of Defense (DoD) personnel are confident that their children are safe and in good care, they can better concentrate on fulfilling their military and defense support responsibilities. That's why our nationally recognized Child and Youth Programs, serving infants through 18-year-olds, are here to make sure high-quality and affordable child care and recreational programs are readily available for military and DoD families worldwide. We set the standard and we're leading the charge in child care reform.
FFSP Which is an acronym for Fleet and Family Support Program. The Navy's Family Readiness programs have been afforded the highest visibility, advocacy and priority. In practical terms, this has resulted in increased services to family members, increased individual assistance and consultation, more varied educational programs, more proactive outreach, and delivery of family support services in locations most conducive to family member engagement. Our programs include: Deployment Readiness Support | Individual Augmentees Spouse and Family Support | Ombudsman Program | Transition Assistance | Relocation Assistance | Family Employment | Personal Financial | Emergency Response | Webinar Classes | Life Skills | Exceptional Family Member Program.
Navy Housing. The CNIC Navy Housing program mission is to provide housing and related services in support of the Navy's mission and readiness. The Navy Housing Service Centers (HSC) are located at most Navy installations worldwide. The HSCs are staffed with trained professionals; experts in providing housing services, locating desirable homes and neighborhoods to choose from and assisting in the process of determining what is most important in your housing search, then matching your priorities with the choices available.
To see open positions please visit www.usajobs.gov and search a job title or by zip code.
Updated: April 24, 2023